How do beginners choose their first action sports camera?

Nov 07,2022


Ausek
Action cameras are designed for sports photography. With the upgrade of consumption, more and more people pay attention to sports and health in their lives in recent years. Many young people like to use action cameras to record the wonderful moments of their outdoor activities. It has gradually become popular to record one's daily lifestyle, and it has been derived from all aspects of our lives.
Under the existing shooting conditions, shooting equipment such as smart phones and digital cameras cannot work stably in many sports environments, such as shooting in high altitude or deep water environments. Or even if you have the ability to shoot, you can't achieve some desired shooting angles. The appearance of the action camera solves these troubles. It is a portable,small, dust-proof, shock-proof, and waterproof camera. Users can use the action camera to shoot in some extreme sports. All action cameras have pros and cons, and it's hard to say if one is better than the other, because it depends on what you need. The following are the most important considerations.
1.Price
First of all, most people who buy action cameras are trying new things, so for this group of people, there is no need to buy expensive professional action cameras, just dozens of dollars entry-level cameras.It is worth mentioning that Auesk has many cost-effective action cameras, such as AT-G100 and AT-G208, which are essential for beginners.
2. Accessories
Professional sports cameras generally work hard on the main accessories, and have complete supporting facilities, such as waterproof shells, remote controls, and supporting mobile APP. Only the body structure can capture the thrilling pictures we need in harsh environments, so accessories are particularly important.
3.Configure
In fact, the chip has already determined most of the configuration of the action camera. Here I want to mention that there are many cameras on the market. Fake standard parameters, fake 4K, fake pixels. Therefore, before placing an order, understand the meaning behind the detailed parameters, and verify whether these configurations are actually supported according to the model of the chip and image sensor.
4. Anti-shake effect
Image stabilization is very important for action cameras. Sometimes the videos and photos we shoot are not clear enough, and occasionally ghosting or blurring occurs. This is because in actual shooting, after the light enters the image sensor, it is unavoidable to slightly shake during the photosensitive process, and the shaking may come from shooting.
It is also possible that the shutter time is not short enough. At this time, some measures are needed to reduce the blurring of images caused by jitter. There are many kinds of image stabilization, the more common ones are optical image stabilization and electronic image stabilization. For example, the latest action camera from ausek, 4K 60fps with EIS is a good choice.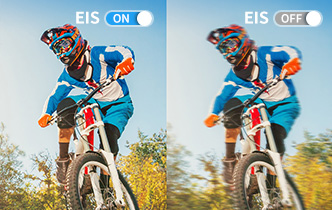 5.Appearance
Modern people are obsessed with beauty, and when purchasing action cameras, they also have requirements for appearance. For example, single-screen, dual-screen and clamshell action cameras have different aesthetics.