How to choose first sports camera?

Oct 14,2022


Ausek
This article will first introduce how to choose a sports camera, you can refer to the following considerations and consider the use of the choice.
1, According to the needs of the choice of image quality, frame rate and perspective.
Before buying a sports camera, you can think in advance what shooting scenes or decide what subject matter to shoot, and select the corresponding clarity and perspective, so as to shoot the scene in the heart of the desired picture.
①If you value image quality, choose a camera that corresponds to 4K!
4K camera

4K is now becoming the mainstream resolution for sports cameras. Of course, the higher the pixel quality, the higher the price of the camera itself, so it is important to choose according to how the video will be used after shooting. If the video shot does not need to be edited and uploaded, just watch it yourself, full HD will be enough.
②If it's an action-packed shoot, choose a high frame rate camera!
High frame rate camera shooting
If you want to shoot intense motion video, we recommend choosing a high frame rate camera. Frame rate (FPS) is the number of frames recorded per second, and the larger this number is, the smoother the impact of the shot will be.
If there is 24-30FPS, it will be enough for daily life recording. However, if you want to connect it to a surfboard or bicycle for shooting, it is recommended to use a high frame rate model that supports 60FPS. Especially in the case of 4K quality, if there is no smooth transition, then the high quality movie will look like a frame jam, so the high pixel quality also needs to correspond to high frame rate to make the most of it.


③Wide viewing angle has shocking power, small viewing angle can avoid distortion of the picture.
Wide angle of view
The style and scope of shooting video is determined by the perspective. Generally speaking, the human eye has a perspective of nearly 200 degrees, and the closer the shot is to 200 degrees, the more immersive the image will be. Previous sports cameras have about 130 to 150 degrees of view, with technological breakthroughs there are also more than 200 degrees of ultra-wide angle products launched.
Ultra-wide angle can give people some sense of shock, but too much will also produce the possibility of distortion of the picture. So you want to avoid this situation, you may want to choose a small view of the sports camera; on the contrary, tend to immersive sense of shock recommended ultra-wide angle sports camera. In addition, some cameras can adjust the perspective, the choice can also have more, there is a need to understand the next.
2, According to the shooting scene selection function.
Water sports cameras
According to your use of sports cameras to choose the function, such as the use of cameras in travel for a long time, or in the sea or swimming pool to use the camera, each situation requires the corresponding function, you can pick according to their most basic needs.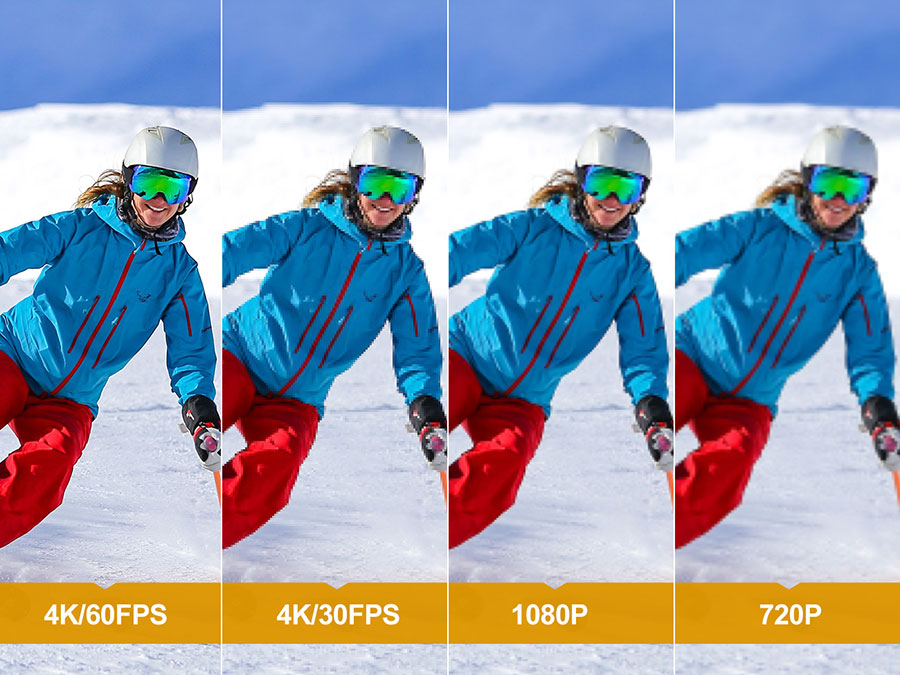 ① If you use the camera in a scene of violent vibration, the camera needs to have anti-shake function!
Camera stabilization generally has optical stabilization, electronic stabilization. If you want to control the hand shake to a minimum, it is recommended to use optical stabilization cameras; electronic stabilization cameras can resist minor vibrations; so if you want to shoot smooth and high-quality video, it is recommended to use optical stabilization cameras. It is also important to understand that optical stabilization models can produce beautiful images without residual shadows, but due to the complex structure, the size of the camera body is often larger, while the cost will also be higher.
②Sea sports and outdoor shooting must have waterproof and dustproof function.
When shooting near water, please choose a camera that meets the waterproof purpose. If shooting at the beach and other places, choose a camera with a water depth of 3 meters or less, so that even if it is flooded, there is no need to worry; if it is diving and other water photography, please choose a waterproof performance camera of 10-60 meters according to the depth of their submersion. In addition, for off-road racing and motocross photography on mountain roads, it will accumulate dust, you need to buy a model with high dust resistance.
③ If you use it in travel, please pay attention to the duration of life!
Before buying to confirm how long you can shoot after a charge, try to avoid the situation where the camera runs out of power halfway through the trip. After understanding the capacity of the battery and continuous use time, it is also good to prepare spare batteries. In addition, if you choose to charge through the mobile power USB charging models, in case of emergency is also very convenient.


3. Choose a size and weight that is easy to carry!
Wearable camera
When choosing a sports camera, you should also pay attention to the size and weight, if possible, it is recommended to choose a compact and lightweight. As known as a wearable camera, sports cameras can be worn on the helmet or clothing for shooting. If it is too heavy and too big it is difficult to install, especially for people who shoot for a long time will be tied up.


4, choose more attachments, the bike is also easier to install!
Sports camera accessories
If the sports camera comes with a wealth of accessories, it is easier to correspond to a variety of scenarios, so it is highly recommended. For example, when riding a bicycle, it can be mounted not only on the helmet, but also on the handle. As a result of the change in location according to the shooting position, the sense of presence will be different.


5,Compatible with Wi-Fi Bluetooth function.
If you often share video, it is recommended to be equipped with a sports camera equipped with Wi-Fi and Bluetooth. By connecting with a cell phone or tablet and immediately upload to a social app, you can easily interact with friends and family, some even come with a live broadcast function, with this demand can consider getting this type of style.
6, With a display can immediately view the video when shooting.
If you want to view the video footage shot in real time, the model equipped with a display will be perfect. Although the size will be larger because of the display, but you can shoot at the same time to view the video you have shot. However, many sports cameras are not equipped with a display, it seems unnecessary, because you can not even see the display when shooting changing sports, but for those who want to record vlog video and landscape, it is also very necessary.

Why do you need a sports video camera?